Philosophy and Religion Student Ambassadors
| | |
| --- | --- |
| | |
Mary Boyle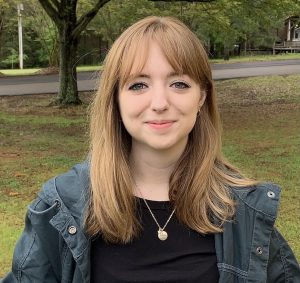 Mary Boyle is a writer on the editorial team at UM's Square Magazine, a fashion and lifestyle publication that showcases happenings and trends in Oxford. A member of the Golden Key society and the National Society of Collegiate Scholars. She has served as a teaching assistant for religion classes in her department.
Why did you decide to study your major(s)?
I have always been fascinated by philosophy and religion. I initially started out as a philosophy major with a minor in religious studies. Halfway through my freshman year, I found out about the philosophy major with an emphasis in religious studies, and I immediately knew it was perfect for me. I combined it with my love of writing by adding a journalism major.
Career goals?
I plan to use what I learn through my philosophy and religious studies major in my career as a journalist. I eventually want to work for a large newspaper.
Why should someone decide to study your major at the University of MS?
For me, this major is the perfect combination of my interests. The two subjects really work well together and serve to broaden your horizons. The classes I've taken under this major have expanded my thinking and changed the way I view the world.
Have you had an experience at UM that made you feel empowered or gave you a leadership opportunity?
I recently joined the National Society of Leadership and Success and got to participate in their leadership training course. It was really cool to listen to speakers like Steve Madden and work with other students from the university.
Any particular support or encouragement you have received from a professor?
All of my professors, whether they teach philosophy or religion, have made me feel like a scholar rather than a just student. They really care about having deep conversations rather than teaching a series of facts to memorize.
What is an especially memorable trip, research, internship, or other school related activity you've done?
When I was taking Religion 101 with Dr. Bos, we had a project where we got to travel to a religious spot near us. I went to the Buddhist Magnolia Monastery in Batesville with two of my classmates. This was an incredible experience. We got to join the members of the monastery on their meditation walk. We walked for an hour in silence, paying attention to each step. This was such a different experience for me as I'm used to a fast-paced world and using walking as a means to get from one place to the next, not giving it much thought. It was so nice to join a community, even for one day, and really focus on being mindful. It's an experience that I will take with me throughout the rest of my days.
What are you binge watching?
I will now and forever be binge watching Frasier. It's my favorite show. If you catch me at any given moment at home, it will most likely be on my TV.
What is your go-to meal in Oxford?
Lately I've been eating a lot of burritos from South Depot Taco. They're delicious!
What do you enjoy doing outside of academic pursuits at UM?
I try to do yoga every day. The university offers some amazing yoga classes. I also love going to the Whirlpool trail near the South Campus Rec Center. Especially now, it's so important to take some time and reconnect to nature.
Lexie Burns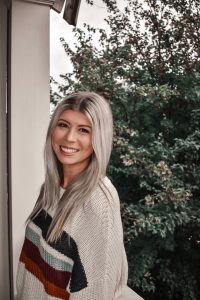 Lexie describes herself as a "a hardworking and driven individual who strives to succeed in all things." She is working towards her BA in philosophy with a minor in Criminal Justice. Lexie has been on the Deans and Chancellor's Honor Roll for the past three years and feels a sense of community in her department, calling it place where professors and advisors genuinely care for students and look out for the their best interests.
Why did you decide to study philosophy?
It was my freshman year of college, where I initially took Philosophy 101 with Professor Smyth. Initially, I was on a completely different college track. After my first philosophy class, I fell in love. Philosophy made me question and dive deeper into topics I never thought about before. The questions that it made me discuss only piqued my interest more. After the second philosophy class with Professor Barnard, I knew I had found my home in the Philosophy Department at Ole Miss.
Why study your philosophy at the University of Mississippi?
Many majors on campus want you to learn and study a specific field without necessarily wanting your opinion or views. Philosophy not only wants your opinion but calls for you to analyze philosophical traditions and cultures and make them your own. Questions are not only wanted but craved in this major. In Philosophy, I learned that there are no right or wrong questions or ideas, but it's the journey of finding out the truth for yourself. I've learned about so many different cultures and ideologies that I never even heard of before. The Philosophy Department gave me the opportunity to truly find myself through a major that welcomes me and my opinions wholeheartedly.
Career goals?
I am currently studying for the LSAT. I'm feeling very motivated to do well so that I can get into a law school where I can specialize in the criminal field as a defense attorney.
Any particular support or encouragement you have received from a professor?
After I changed my major to philosophy, Dr. Skultety became my advisor starting from my sophomore year. He sat down with me and truly listened to my aspirations for my future. He encouraged me and has continued giving me advice about anything I need. Dr. Skultety is who assured me that this major was perfect for me.
What is an especially memorable trip, research, internship, or other school-related activity you've done?
My most memorable experience was being on a committee in my sorority for CASA Encore, where I raised $2000 in my name for the Court Appointed Special Advocates of Lafayette County.
What is your go-to meal in Oxford?
Two shredded chicken tacos with salsa verde and a side order of chips and queso from The Taco Shop on University Avenue. They have the best tacos in town!
What are you binge watching on Netflix or other platform?
Currently, I am binge watching Law & Order: SVU for the 5th time.