Religion IN THE NEWS
MARCH 30, 2022
BY STAFF REPORT
In response to the devastating impact of the coronavirus pandemic on older people and residents of long-term care facilities, Sarah Moses, associate professor of religion and director of the Society and Health minor, created a special topics course—COVID-19 and the Crisis of Elder Care—for the University of Mississippi Society and Health minor last spring.Within weeks after the semester ended and with the support of Tuohy Community Service Internship Scholarships, two students from Moses's class, Ella Lawson and Edith-Marie Green, were actively engaged in summer learning about needed reforms within the United States elder care system.
Lawson, an international studies and Arabic major from Dearborn, Michigan, lived in the Washington, D.C. area and worked in the national office of the Green House Project, a revolutionary new model for nursing home care whose first homes in the United States were built by Methodist Senior Services in Tupelo, Mississippi.
"In 2017, I learned about a group of professors, students, and community members who visited a nursing home on Sundays through the Community of Sant'Egidio," Lawson said. "At that time, my grandmother was at a nursing home in Illinois and I knew I wouldn't be able to see her very often, but I hoped by visiting elders at the local nursing home, someone might be visiting her. Over the next four years, I developed profound friendships with some residents there and I began critically thinking about the way that American society treats its elders.
"When Dr. Moses offered the course on the COVID-19 pandemic and aging, I wanted to learn more about ageism and elderhood from an academic perspective and the class increased my interest in addressing the needs of elders through policy change both at the national and local levels.
"The class was fantastic, Dr. Moses included a wide variety of sources and incredible speakers. It was a most engaging class and I enjoyed the discussions. It was powerful for me to follow-up the class with an internship with the Green House Project. There I got to apply what I'd learned in class and see what it's like for an organization that is genuinely trying to innovate in the field of elder care. I learned a lot from my coworkers, participated in a variety of projects, and even visited my first Green House Home."
During her internship in Washington, Lawson assisted with community outreach initiatives and policy advocacy—creating education booklets on topics such as coaching and dementia; assisting with survey creation and contact management; writing one-pagers on Certificates of Need, the PACE program, and other topics; updating sponsorship prospectuses and initiating social media campaigns highlighting the experiences of elders and staff.
She is following that experience with a volunteer year for an elder care organization in Chicago. "I'm currently in the Jesuit Volunteer Corps and placed at Little Brothers-Friends of the Elderly Chicago Chapter," Lawson said. "There, I get to accompany lonely and isolated elders in friendship through social visits and outings, grocery deliveries, and holiday celebrations. In the future, I would like to continue working in eldercare."
Green, an international studies major with a concentration in global health and minors in German and Society and Health from Oxford, interned with the Elder Law Project of North Mississippi Rural Legal Services, offering legal services to seniors and their families. She coordinated the virtual Elder Law Conference held last August for more than 200 participants from law and social work together with speakers from across the country.
"Both the eldercare course and my internship with North Mississippi Rural Legal Services' Elder Law Project forced me to think outside of the box and more critically about these issues," Green said.
"I think many of us can agree that good healthcare is important, that abuse of elders is wrong, that all people deserve rights, but actually looking at specific cases and issues in Dr. Moses' class and then having hands-on experience in my internship—witnessing wills, drafting advanced healthcare directives, visiting court with clients, planning the annual Elder Law Conference—crystallized these issues. The crisis of eldercare is not just a concept, it is something happening to real people in real time, and it affects not only individuals but also families."
Following graduation, Green plans to pursue a master's in public health and a doctorate in epidemiology with her research focus on end-of-life healthcare issues.
"In that vein I am writing my honors thesis on euthanasia, with a specific focus on the German medical context both historically and in the present-day," she said. "I hope to use my degrees in the future to teach about these issues and also lead research of my own."
"I think that another reason the field of eldercare and healthcare in general is so important is that the past two years of the pandemic have revealed enormous cracks in the system. We are at a point as a society where the detrimental effects are too large to ignore, and with a rapidly aging population, the situation will only get worse without action."
The goal of Moses's special topics course on COVID-19 and elder care was to get students engaged with the critical ethical, cultural, and policy challenges which the pandemic exposed. "The demographics of aging and the acute shortage of caregivers confront every family, and these are issues undergraduates will encounter both in their personal and professional lives," Moses said. "In the course students were introduced to literature from the humanities, social sciences, and public policy and interacted with nationally recognized experts in order to help them think critically and creatively about how our society can truly respect the rights and dignity of elders.
"Through their internships, Ella and Edith-Marie were able to take the knowledge gained in the class and use it for the benefit of the wider community through these two wonderful community-based organizations. It's through these kinds of experiences connecting the classroom to the real world that students are able to both apply their knowledge and have their knowledge deepened through hands-on experience. These internships also help students clarify their vocational goals and gain important job skills and a professional network."
As Community Service Interns, Green and Lawson took what they had learned about COVID-19 and the Crisis of Elder Care in Moses' classroom to improve society. "I'm grateful to Dr. Moses for all that she's done—if it wasn't for her I would have never heard of the Green House Project or Jesuit Volunteer Corps," Lawson said. "It's incredibly important for the University of Mississippi to provide professors with the ability to offer classes on contemporary issues and to do so with a multidisciplinary lens."
Established in 2017, the Tuohy Community Service Internship Scholarship provides a course-tuition scholarship for the REL 380 Community-Based Internship and compensation for internship expenses incurred while serving a community organization. "Scholarships transform students' lives, elevate whole families, and enrich communities. We are happy to facilitate these students making a difference any way that we can," said Leigh Anne Tuohy.
"As a professor, it is an honor to work with students like Ella and Edith-Marie who want to make a positive impact on the wider community, and I'm delighted we can offer internships like these which give students a concrete way to contribute to the world," Moses said. "Our university is fortunate to have community partners like the Green House Project and North Mississippi Rural Legal Services who help us shape future leaders. I am grateful for the generous support of the Tuohy family whose gift enables students to do good in the world."
The College of Liberal Arts offers students further opportunity to examine this critical field for our society through other electives within the Society and Health program such as Biomedical Ethics, Religious Perspectives on Aging and Death, and Sociology of the Family.
"Through Leigh Anne and Sean Tuohy's generous gift to the Department of Philosophy and Religion, we are able to award community service internship scholarships," said Steven Skultety, department chair. "Such outreach to the community is part of the university's mission, and it's exciting for our department to be actively engaged."
Mississippi Free Press
GRACE MARION
FEBRUARY 4, 2022
OXFORD, Miss.—University of Mississippi student Sara Giray doesn't remember reading about any gay couples in books growing up, but she remembers years of school-required readings that centered around heterosexual couples—in everything from Marie Lu's "Legend," to Shakespeare's "Romeo and Juliet."
Her college hosted a brown bag "Religion for Lunch" conversation on Feb. 1, 2022, to discuss Ridgeland (Miss.) Mayor Gene McGee's decision to refuse the Madison County Library System its funding unless the staff agrees to purge LGBTQ+ books from their shelves, a story the Mississippi Free Press originally reported.
"It's unethical to just provide that portion," Giray said at the event, explaining that it is only fair to show both same-sex and opposite-sex couples. "How are you supposed to identify yourself if you don't ever see yourself?"
"If you don't centralize other viewpoints—outside of heteronormative, societally acceptable sort-of viewpoints—you're putting a lot of youth at risk of things like depression, suicide and so forth," Giray said.
Ethics in Representation
The lunch group discussed the theoretical: Would the situation be the same if the LGBTQ+ books were required readings in schools, the same way books with heterosexual characters are assigned now?
Lynn Watkins explained her concerns that Ridgeland (Miss.) Mayor Gene McGee sought the LGBTQ+ book purge "extra-procedurally," without using the library's formal process of challenging books. The library's board wasn't aware of McGee's request to remove the books until after their funds were already in limbo.
Professor of Teacher Education Ellen Foster agreed that LGBTQ+ representation was important, but pointed out that school curriculums are often subject to the will of the parents whose children attend the school.
"Children should learn about LGBTQ issues; they should learn about being respectful," Foster said. "That may be the only time they see themselves represented in their community is in the library."
"It wouldn't be taught because the parental voice would be the one that would speak through," Foster said, explaining that the school board and teachers are subject to parental opinions on curriculum.
"Where's the line between parental right to control and the child's right to learn?" Foster later questioned.
A Librarian's Perspective
"Libraries, in general, do not pull books based on one or even a few people's opinions," Torbert said. "The library exists to get resources to whoever needs them."
The University of Mississippi library doesn't really deal in banning books, Torbert explained, reassuring participants that books would not be disappearing from J.D. Williams Library anytime soon.
"What we do see is sometimes books with a controversial nature disappear out of the stacks," she added.
Torbert explained that even in libraries where books are "banned," they are rarely actually made unavailable to people visiting the libraries. "Libraries do remove books. Most times they make a big display that says 'hey, look these books were banned,' and they fly off the shelves," Torbert said.
Torbert and Foster both referenced the American Library Association's annual list of books banned nationally each year.
Other Questions
Lynn Wilkins, the University of Mississippi Life resources program manager, questioned Mayor Gene McGee's decision to circumvent the formal process for book complaints.
"There's a procedure. The library has to see feedback, it goes up the chain, they consider in a formal manner all objections. What the mayor is describing is sort of extra-procedural," Wilkins said. "… I've just heard people do this before, where they just hide behind 'they,' (and) 'a lot of people are telling me.' if it's extra procedural, they don't have to name those people."
At the end of the session the group still had a few still-unanswered questions about the situation in Ridgeland: Had the mayor actually read these books? Is there a complete list of books he wants banned? Why didn't the mayor follow the formal complaints process? McGee has, so far, declined a substantive interview to answer those kinds of questions, although he spoke to the MFP's Nick Judin's briefly the morning after the story broke.
Grace Marion is studying print and broadcast journalism at the University of Mississippi's School of Journalism
and New Media. Before becoming a contributing reporter at the Mississippi Free Press, Grace had bylines in the
Bucks County Courier Times, Mississippi Today and the Daily Mississippian among others.
---
Pilgrimage class offers hands-on experience and opportunity to collaborate across disciplines
OXFORD, Miss. – A University of Mississippi professor has created a new religion course that combines academic study of religious pilgrimages with the creation of 3D images of ancient relics.
The course, REL 340: Pilgrimage: Sacred Journeys, examines many material objects that serve as pilgrimage destinations – particularly saints' relics, which can be corporal, such as bones, or contact, such as cloth or oils, said Mary Thurlkill, professor of religion. For example, religious pilgrims visit Mount Sinai in Egypt, the "head of John the Baptist" in Rome and Jesus' "crown of thorns" in Paris.
Relics are generally displayed in reliquaries, which can be extravagantly adorned cases or simple mounts.
"My students will research different pilgrimage destinations, both their historical foundations and contemporary rituals, and design their own reliquary for an imagined relic," Thurlkill said. "They will learn about a particular holy place and will think critically about how material culture – i.e., the 'stuff' of religion – links with belief – i.e., the 'theology'; how human beings 'live' their religion through various rituals; and why such material objects/symbols are important to us."
Students taking the course said they are enthusiastic about what they will learn during the semester.
"It's a really amazing class," said Johnathon "JC" Smith Jr., a senior from Mooreville who is majoring in philosophy with an emphasis in religious studies. "Pilgrimages are something that is seen in every religion, and in every culture.
"The course is beneficial because it demonstrates, just like religious studies and like all the humanities, there are many paths to truth and understanding."
A unique assignment in Thurlkill's course involves a collaboration with Yiwei Han, an assistant professor of mechanical engineering, and his M E 523: Introduction to Additive Manufacturing course. Students from Thurlkill's class will get experience in 3D printing, while students from Han's class will gain some knowledge in the humanities.
"I first approached Dr. Han about the joint assignment after reading an article about a museum that produced 3D models of certain artifacts for their audience to handle/touch," Thurlkill said. "This intrigued me because, by doing so, the museum was allowing another sensory 'engagement' with historical artifacts – through touch.
"It also demonstrated how the humanities – in this example, museum studies and fine arts – link with so many different fields."
Han said he sees the venture as a great idea for students from two totally different fields to work together.
"This is the first time we have applied 3D printing in REL 340 class," he said. "It is not often for us to see some works that combine 3D printing and religion. This time, students will have a chance to apply their skills to archive something that they have never done before."
Han's research interests are micro/nano fabrication, additive manufacturing, advanced manufacturing and printing electronics. His graduate students and other students interested in his research are using his lab, which houses a 3D printer customized for high-resolution 3D and 4D printing.
Han said the experience is very important for engineering students.
"With the real-world application, they can get many hands-on experiences that will help them in the future," he said. "The students who take this class will perform interdisciplinary research and get some experience of working with others from outside of their fields."
---
Sarah Moses, assistant professor of religion, received the
Cora Lee Graham Award for Outstanding Teaching of Freshmen
from the University of Mississippi College of Liberal Arts.
BY ELAINE PUGH
MAY 11, 2013
Sarah Moses, assistant professor of religion, received the Cora Lee Graham Award for Outstanding Teaching of Freshmen from the University of Mississippi College of Liberal Arts.
One of only three faculty members in 2012-13 honored by the College. Moses was recognized Saturday, May 11 2013  at the College commencement ceremony in Tad Smith Coliseum.
The selection process involved nominations from students and fellow faculty, which were considered by a committee of former recipients based on criteria that includes excellence in class instruction, intellectual stimulation of students and concern for students' welfare.
The nomination letters followed a theme of selflessness, professional passion and individual attention to students.
Of Moses, one colleague referred to how her students regularly give her high marks in teaching evaluations and wrote the following:
"Dr. Moses is more than an excellent teacher; she is also a caring mentor. Teaching religion has some unique challenges, compared to teaching chemistry, for example. The teacher is exposing students to belief systems that are quite different than their own deeply held beliefs. … It takes great skill to negotiate such controversial terrain. One has to earn the respect of the students to take them on this journey."
Moses received validation of her worthiness for the award from Steven C. Skultety, professor and chair of the Department of Philosophy and Religion. He lauded the honored faculty member.
"Like other well-respected teachers, Dr. Moses brings an incredible amount of enthusiasm to her teaching, and she thinks very carefully about which material will interest and challenge our students. What sets her apart, however, is her uncanny ability to exert authority and make students feel like sharing and participating at one and the same time. Students in her classes never feel they are receiving a pre-packaged lecture, but believe they are entering a conversation led by a sympathetic expert."
The honored faculty member expressed surprise and appreciation for having been chosen.
"Teaching is my favorite part of being an academic," Moses said. "When I think of freshmen who are just setting out on the intellectual, social and personal journey of college, I consider it a great privilege to help them to deepen their understanding of the world in which they live, particularly about religious studies. And so it is very gratifying to me to know that some of my students have had a positive learning experience in my classes and honored me by nominating me for this award."
Moses joined the university in 2008. She specializes in religious and medical ethics and contemporary religious thought. Each semester, she teaches several sections of REL 101: Introduction to Religion. She holds a master's from Harvard Divinity School and a doctorate in theological ethics from Boston College.
---
A University of Mississippi graduate has gained national recognition as a creative writer with a piece of fiction that explores boundaries of the human heart.
BY ELAINE PUGH,  SEPTEMBER 12, 2012
Andrew Paul of Clinton, who graduated in May 2012 as a member of the Sally McDonnell Barksdale Honors College, is one of three new national Portz Scholars, named by the National Collegiate Honors Council. This is the second consecutive year for the University of Mississippi to produce a Portz, and Paul becomes the university's fourth Portz Scholar since 2002.
Majoring in religious studies, Paul composed his winning work, titled "The River Thief: A Collection of Short Fiction," for his honor's thesis. He has been invited to present it at the November NCHC convention in Boston. Each year, the NCHC invites honors colleges nationwide to submit outstanding research/creative papers written by their students; from those submissions, only three scholars are selected.
"When we select our nominee for the Portz, we look for work that pushes the boundaries of what is known, and does so in a professional manner," said Honors College Dean Douglass Sullivan-González. "Andy uses fiction to explore the boundaries of the human heart. It is not an easy journey, but Andy makes it rich and worth the risks."
Paul's skills as a creative writer were honed under the tutelage of two award-winning writers, both UM faculty members. Jack Pendarvis, writer-in-residence, and Tom Franklin, assistant professor of fiction writing, served as director and second reader for Paul's collection.
Paul said it's a real honor to be recognized for his work.
"I would have been happy enough to simply finish the collection, but having other people enjoy it and want to promote it is amazing," he said. "I plan on expanding my thesis by another two or three stories, then beginning a new collection.
"I'm particularly interested in what it means to be a modern Jew in the South. I tried my best to merge the Southern writing that I love–Lewis Nordan, Barry Hannah, Tom Franklin and others–with Eastern European Jewish archetypes and folktales. A lot of Southern Jewish 'culture' I've seen appears to boil down to Judaism meets fried chicken. I want to show that there is a lot more to it than that–that there are a lot of complex nuances and issues related to the culture."
As for the future, Paul said he plans to apply to M.F.A. programs around the country and hopes to eventually get his first collection of stories picked up by a publisher.
Other University of Mississippi Portz Scholars are Ryan Parsons (2011) of Hattiesburg, international studies and Chinese; Heather Carrillo (2006) of Little Rock, Ark., classics and art history; and Amanda Guth of Tremont (2002), psychology and biology.
---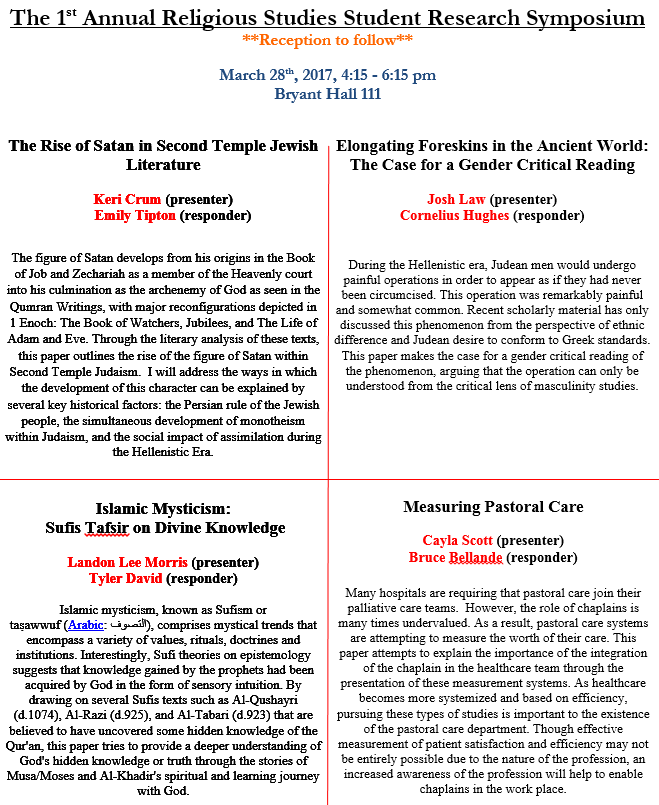 ---
Congratulations to Joshua Law!
Joshua Law, a senior Religious Studies major and Taylor Medal recipient, has had an essay selected for publication in the Journal of Theta Alpha Kappa. The essay analyzes the Jewish practice of epispasm, or reverse circumcision,  and the polemic against it, from a gendered perspective.